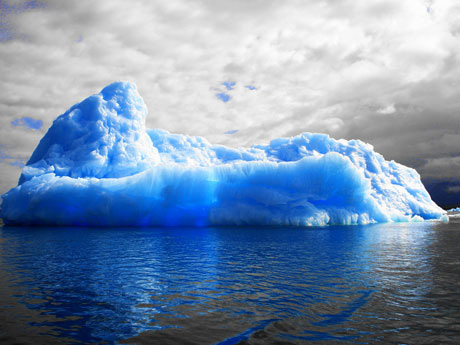 Use the slider to compare the images. Credit: Sarah Scurr (left); Marisol Ortiz Elfeldt (right)
In a surreal way to demonstrate that there are a lot of cameras in the world, take a look at the images above. They were taken in 2006 while on board a ship sailing through an ice field off the coast of Chile.
One of the images (Sarah Scurr's) was submitted to a photo contest on the Telegraph's website. It was selected as one of the top pictures for the week in 2009 when it was submitted.
Last month a claim was made that the image belonged to a Chilean journalist. The Telegraph investigated.
After checking the additional information attached to the pictures it was established that they were in fact two pictures taken at almost the same time of the same thing only metres apart.
Both Sarah Scurr and the Chilean journalist Marisol Ortiz Elfeldt were on the ship and happened to take the same picture.
You can expect this to happen a lot more often from now on although the ease of copying a picture would still make plagiarism an even bigger issue.
If you would like to see if or where an image of yours has been used you can try services like Google's image search that will compare the image you upload to the websites it has indexed with that image.
This article first appeared on 702 : One iceberg, two pictures. Was one of the pictures a stolen copy?